INTRODUCTION
There has been significant improvement in the perioperative results following liver resection, mainly due to techniques that help reduce blood loss during the operation. Extent of liver resection required in HCC for optimal oncologic results is still controversial. On this basis, the rationale for anatomically removing the entire segment or lobe bearing the tumor, would be to remove undetectable tumor metastases along with the primary tumor.
SIZE OF TUMOR VERSUS TUMOR FREE-MARGIN
Several retrospective studies and meta-analyses have shown that anatomical resections are safe in patients with HCC and liver dysfunction, and may offer a survival benefit. It should be noted, that most studies are biased, as non-anatomical resections are more commonly performed in patients with more advanced liver disease, which affects both recurrence and survival. It therefore remains unclear whether anatomical resections have a true long-term survival benefit in patients with HCC. Some authors have suggested that anatomical resections may provide a survival benefit in tumors between 2 and 5 cm. The rational is that smaller tumors rarely involve portal structures, and in larger tumors presence of macrovascular invasion and satellite nodules would offset the effect of aggressive surgical approach. Another important predictor of local recurrence is margin status. Generally, a tumor-free margin of 1 cm is considered necessary for optimal oncologic results. A prospective randomized trial on 169 patients with solitary HCC demonstrated that a resection margin aiming at 2 cm, safely decreased recurrence rate and improved long-term survival, when compared to a resection margin aiming at 1 cm. Therefore, wide resection margins of 2 cm is recommended, provided patient safety is not compromised.
THECNICAL ASPECTS
Intraoperative ultrasound (IOUS) is an extremely important tool when performing liver resections, specifically for patients with HCC and compromised liver function. IOUS allows for localization of the primary tumor, detection of additional tumors, satellite nodules, tumor thrombus, and define relationship with bilio-vascular structures within the liver. Finally, intraoperative US-guided injection of dye, such as methylene-blue, to portal branches can clearly define the margins of the segment supplied by the portal branch and facilitate safe anatomical resection.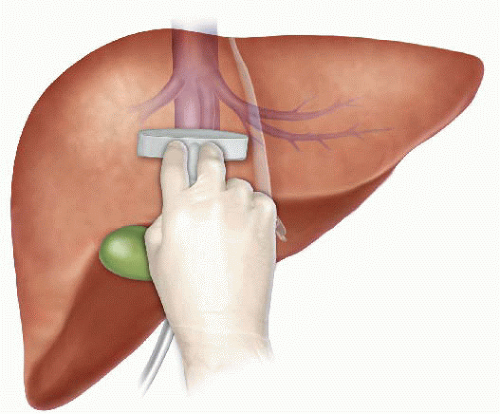 The anterior approach to liver resection is a technique aimed at limiting tumor manipulation to avoid tumoral dissemination, decrease potential for blood loss caused by avulsion of hepatic veins, and decrease ischemia of the remnant liver caused by rotation of the hepatoduodenal ligament. This technique is described for large HCCs located in the right lobe, and was shown in a prospective, randomized trial to reduce frequency of massive bleeding, number of patients requiring blood transfusions, and improve overall survival in this setting. This approach can be challenging, and can be facilitated by the use of the hanging maneuver.
Multiple studies have demonstrated that blood loss and blood transfusion administration are significantly associated with both short-term perioperative, and long-term oncological results in patients undergoing resection for HCC. This has led surgeons to focus on limiting operative blood loss as a major objective in liver resection. Transfusion rates of <20 % are expected in most experienced liver surgery centers. Inflow occlusion, by the use of the Pringle Maneuver represents the most commonly performed method to limit blood loss. Cirrhotic patients can tolerate total clamping time of up to 90 min, and the benefit of reduced blood loss outweighs the risks of inflow occlusion, as long as ischemia periods of 15 min are separated by at least 5 min of reperfusion. Total ischemia time of above 120 min may be associated with postoperative liver dysfunction. Additional techniques aimed at reducing blood loss include total vascular isolation, by occluding the inferior vena cava (IVC) above and below the liver, however, the hemodynamic results of IVC occlusion may be significant, and this technique has a role mainly in tumors that are adjacent to the IVC or hepatic veins.
Anesthesiologists need to assure central venous pressure is low (below 5 mmHg) by limiting fluid administration, and use of diuretics, even at the expense 470 N. Lubezky et al. of low systemic pressure and use of inotropes. After completion of the resection, large amount of crystalloids can be administered to replenish losses during parenchymal dissection.
LAPAROSCOPIC RESECTIONS
Laparoscopic liver resections were shown to provide benefits of reduced surgical trauma, including a reduction in postoperative pain, incision-related morbidity, and shorten hospital stay. Some studies have demonstrated reduced operative bleeding with laparoscopy, attributed to the increased intra-abdominal pressure which reduces bleeding from the low-pressured hepatic veins. Additional potential benefits include a decrease in postoperative ascites and ascites-related wound complications, and fewer postoperative adhesions, which may be important in patients undergoing salvage liver transplantation. There has been a delay with the use of laparoscopy in the setting of liver cirrhosis, due to difficulties with hemostasis in the resection planes, and concerns for possible reduction of portal flow secondary to increased intraabdominal pressure. However, several recent studies have suggested that laparoscopic resection of HCC in patients with cirrhosis is safe and provides improved outcomes when compared to open resections.
Resections of small HCCs in anterior or left lateral segments are most amenable for laparoscopic resections. Larger resections, and resection of posterior-sector tumors are more challenging and should only be performed by very experienced surgeons. Long-term oncological outcomes of laparoscopic resections was shown to be equivalent to open resections on retrospective studies , but prospective studies are needed to confirm these findings. In recent years, robotic-assisted liver resections are being explored. Feasibility and safety of robotic-assisted surgery for HCC has been demonstrated in small non-randomized studies, but more experience is needed, and long-term oncologic results need to be studied, before widespread use of this technique will be recommended.
ALPPS: Associating Liver Partition with Portal vein ligation for Staged hepatectomy


The pre-operative options for inducing atrophy of the resected part and hypertrophy of the FLR, mainly PVE, were described earlier. Associating Liver Partition with Portal vein ligation for Staged hepatectomy (ALPPS) is another surgical option aimed to induce rapid hypertrophy of the FLR in patients with HCC. This technique involves a 2-stage procedure. In the first stage splitting of the liver along the resection plane and ligation of the portal vein is performed, and in the second stage, performed at least 2 weeks following the first stage, completion of the resection is performed. Patient safety is a major concern, and some studies have reported increased morbidity and mortality with the procedure. Few reports exist of this procedure in the setting of liver cirrhosis. Currently, the role of ALPPS in the setting of HCC and liver dysfunction needs to be better delineated before more widespread use is recommended.